WE'VE DONE OUR HOMEWORK ON DECKING
Everywhere you look you will see new, enhanced decking and railing products. From pressure treated wood, which is still the lowest cost, stepping up next to thermally modified wood, then to redwood and western red cedar. Then you'll find composites with plastic and organic fiber, and exotic wood species such as IPE and Cumaru. With multiple choices of chemically treated wood entering the low initial cost market and hundreds of new choices in the composites upper middle market, it is difficult to choose which way to go.
Recently, we researched all the choices and have found natural wood to still be the best choice today -- environmentally and economically. For example, we market thermally modified southern yellow pine with an in-ground 30-year guarantee which competes incredibly well against chemically treated solutions, imported wood decking solutions, and high end furniture-type decking solutions. Regardless of your budget and appearance choices, we can assist you with the best outdoor wood solutions for you or your customer.
DECK MATERIAL COMPARISON CHART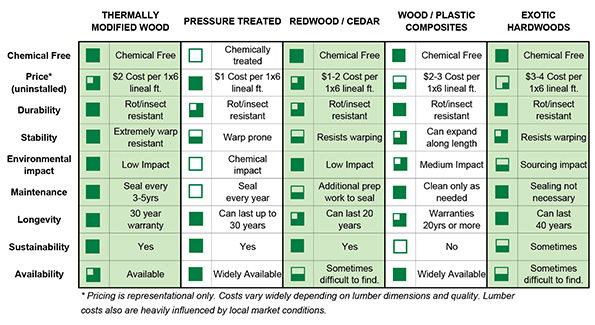 EXCELLENT COMBINATION OF PRICE, PERFORMANCE, AND APPEARANCE
EcoVantage has perfected the heat and steam formula to produce a superior line of exterior wood products. Manufactured using #1 grade Southern Yellow Pine at an Indiana manufacturing facility in the United States, EcoPrem lumber products are sourced from sustainable forests, have zero toxicity, provides dimensional stability, has long term durability and provides a long-term guarantee.
30 YEAR WARRANTY
With the 30-year protection from rot, decay, mold and insects, for all EcoVantage products, the guarantee offers the longest warranty for real wood products currently on the market. This holds true for in-ground contact applications as well.
ALL NATURAL WOOD
Homeowners are more enviromentally conscience than ever. The EcoPrem process is free of any chemical treatments so there is no harm in recycling the materials.
SUPERIOR MATERIAL STRENGTH
DECKING SOLUTIONS
Picking the right deck materials are key to how long a new deck is going to last and how much investment in maintenance will be needed.
PerfikDek materials are shaped and cut from EcoVantage's EcoPrem Wood , yellow pine thermally modified with heat and steam to create natural lumber that is low mainenance with high resistance to weather and insect attack.
We also offer StaTru thermally modified wood, perfect for deck structural systems. Since the product is chemical free, it will not facilitate corrosion in metal deck fastening systems, and comes with the 30-year warranty for in-ground contact applications.
FENCING SOLUTIONS
When it comes to aesthetics, wood fences are superior to vinyl or composite fence materials. The misconception is that for a great wood look, you must be willing to commit to a high maintenance cycle. RyteScape Fence Systems are made with EcoPrem heat and steam technology. The result is wood that is insect, rot, weather and warp resistant, and is included in the 30-year warranty for in-ground contact applications.
SIDING SOLUTIONS
EterhaClad siding is cut from EcoVantage's EcoPrem Wood, yellow pine thermally modified with heat and steam to create natural lumber that is low mainenance and estremely weather resistant. It is the natural wood siding that will improve resale value on your home without the danger of toxic chemicals that other wood sidings contain.